Moving Day Tips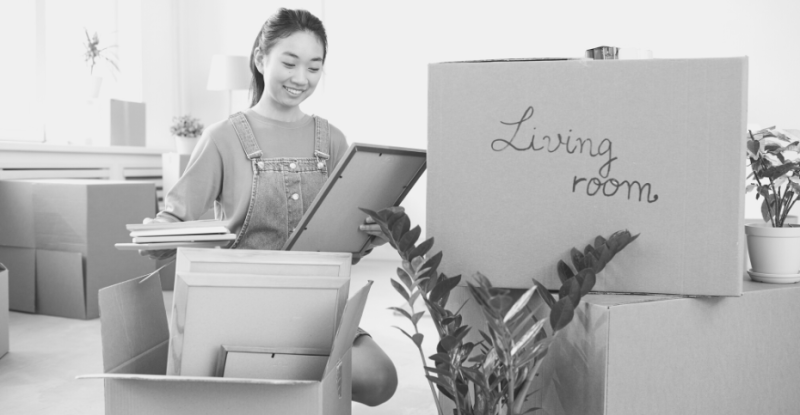 You're almost done! You've decluttered, downsized, and packed and moving day is just around the corner. Just a few more days and you'll be settled into your new community, and so glad that you made the move. The following tips will help you get over the finish line and make the next few days as smooth as possible.
Pack 48-Hours of Essentials Before the Move
This is among the most important tips we have provided in this series! Pack a suitcase as if you were going on a weekend trip out of town that includes basic clothing, toiletries, a towel, medication, devices to charge electronics, your file of important documents, and any other essential items you may need. Packing bedsheets can also be greatly beneficial for the first night or two in your new home. There is nothing worse than moving all day and not being able to find your toothbrush amidst all the boxes! Having 48-hours worth of supplies will help you settle in.
Label Boxes by Room
Hopefully you've been following our tips for the last few months and have an inventory or organization system for the boxes you have packed. Make sure that these boxes have a "destination" so that your movers and organizers know where the box should go on moving day. Writing "bathroom" or "kitchen" in big, bold letters will help your movers be more efficient on moving day, and keep you organized as you begin to unpack.
Make a Pathway for Movers
You probably have a million boxes and pieces of furniture in your current home ready to be moved. Ensure that these boxes are concentrated in one area and that they are easily accessible via the primary door that your movers will use. The workers will be in and out of that door many times throughout the day so be sure they have a clear and safe path between the truck and your boxes so they can be as efficient as possible. The faster they can load your items, the cheaper the move will be!
Unpack One Room at a Time
Once everything has been unloaded into your new home and you start unpacking, focus on one room at a time. The same advice was true when you were packing things up before, so keep the same system! It is much easier to focus on completing a single room rather than unpacking one box here and one box there. Typically it is best to start with the bathroom as you will likely need to use that room before the others, but unpack in whatever order you feel comfortable.
Finally, Don't Overexert Yourself
Moving is a huge task – there is no sugar coating it. You can be as efficient, prepared, and have all the help in the world, but there is still quite a bit of ground to cover. Above all else, don't overexert yourself! Settling into a new environment takes time – don't feel pressured to be done in the first 24, 48, or even 72 hours. Go at your own pace and do only what you feel comfortable doing. You will have plenty of time to meet new people and enjoy all of the amenities available. For now, unpack one box at a time and get yourself situated. Don't forget to eat, sleep, or take time to read or watch TV. It's a marathon not a sprint!
Congratulations on all that you have accomplished in preparing for this move. Your Personal Relocation Manager is ready to provide you with additional services, moving resources, and last-minute advice. Don't hesitate to reach out!